Need help identifying which neighborhood association you are in? Click here
Once you know which neighborhood(s) you are interested in:
There are two options Basic Search or Advanced Search, so just click the one you wish to use.
Basic Search options provide quick reference to one organization. The drop-down menu provides organizational, volunteer leadership, and staff contacts and meeting information for specific Neighborhood Associations, District Coalitions and Business District Associations.
Advanced search options allow you to select an officer category for multiple or all Neighborhood Associations, such as all land use committee chairs. Hold down Ctrl key for multiple selections from the drop-down menus. At this time, it is not possible to make multiple selections for Business District Associations and there is no advanced option for District Coalition office staff. ONI is working to provide these options in the future.
MS EXCEL SPREADSHEET options under the ADVANCED SEARCH
Using the Advanced Search option you can produce MS Excel spreadsheets of various combinations of board officers and committee chairs for Neighborhood Associations.
When using an ADVANCED SEARCH, once the list has been produced, above the list are these three selections as shown in the example below: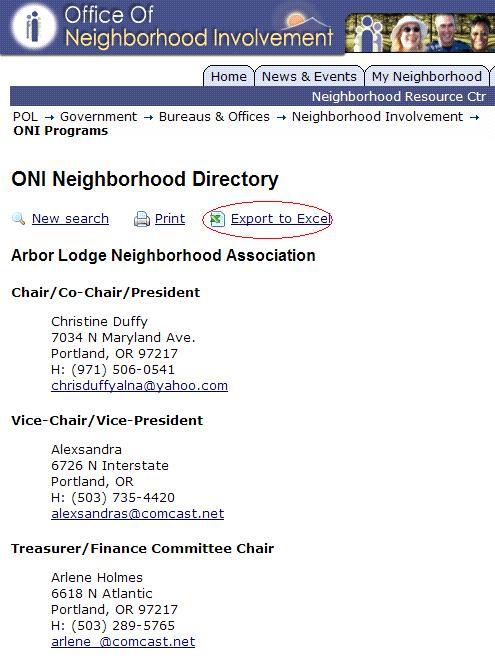 Click on the Export to Excel link (circled in red) and the list will be opened in an Excel spreadsheet to save to your hard drive for your use. Typically the spreadsheet will open in an ".XML" format. We recommend you SAVE AS in an ".xls" format.