Hayden Island Neighborhood Network Website
North Portland Neighborhood Services Website
Hayden Island Maps
Parks**
Schools**
Hayden Island Neighborhood Demographics
Other Links
North Neighborhood Events Calendar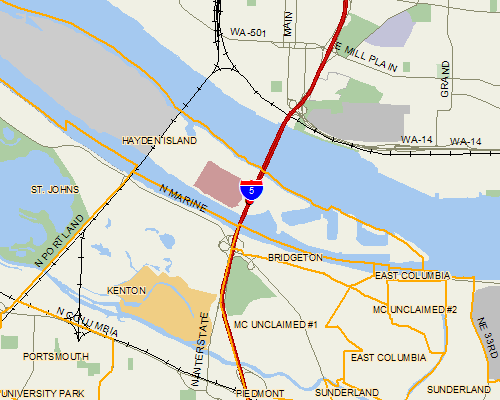 Today, Hayden Island is a wonderful mixture of tax free shopping, light industry, office & retail, restaurants, hotels, condo's and apartments, the largest complex of yacht moorages on the Columbia River, custom riverside homes, an RV park, two manufactured home parks and the areas largest concentration of floating home moorages.

A natural divider between Portland, OR and Vancouver, WA, Hayden Island sits between the main channel of the Columbia River and the boat and water sport intensive North Portland Harbor. Hayden Island is the backdrop for the annual Christmas Ships, Fourth of July fireworks display and non-stop maritime and river based living. A place to get away from it all by just being home.

Challenges face the Island and its +2,000 residents. A construction moratorium coupled with a proposed new I 5 mega bridge project. New million dollar condominiums and big box stores. New traffic and access route needs and the ever growing boat and yacht presence. HINooN is the islands principal planning and input structure for development of the Columbia River Crossing and Island Planning Project with the City of Portland. HINooN provides the consolidating organization for residents and member associations to speak in one voice. Come join us!